Caught by the River - On A Swing-Tip
The Social, London.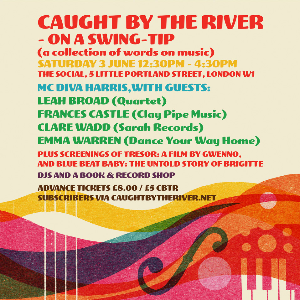 More information about Caught by the River - On A Swing-Tip tickets
The next Caught by the River event will take place at The Social, London on Saturday 3rd June.
Caught by the River - On a Swing-Tip will comprise an afternoon of words on music, including contributions from:
- Leah Broad, author of Quartet: How Four Women Changed the Musical World — a biographical account of the lives, loves, adventures and trailblazing musical careers of four forgotten female composers
- Frances Castle and Clare Wadd: two Caught by the River contributors who are also the founders of independent record labels of distinction (Clay Pipe Music and Sarah Records respectively). Frances and Clare will discuss the ins and outs of setting up and running a label, and riff on each other's experiences and recollections of doing so.
- Emma Warren, author of Dance Your Way Home, a landmark social history of the dancefloor that gets to the heart of what it is that makes us move
- MC Diva Harris, editor of Caught by the River and moonlight music writer.
Additionally, there will be two short film screenings:
- Gwenno's Tresor — an accompaniment to her recent album of the same name, inspired by surrealist filmmakers such as Sergei Parajanov, Agnès Varda, and Alejandro Jodorowsky. Filmed in Wales and Cornwall, Tresor evokes a dreamworld from another time, surreal, and sensual, saturated with light and colour.
-
Blue Beat Baby: The Untold Story
of Brigitte — which uncovers for the first time the lost story of the woman who inspired Two Tone band The Beat's "Beat Girl" logo, and with it a vision of a lost Soho
There'll also be a book and record shop, plus, of course, a fully stocked bar.
Tickets cost £8 in advance (£5 for Lunker-tier CBTR Steady subscribers) and can be bought here.