MOOF Magazine's 5 Year Anniversary Celebration
Lafayette, London.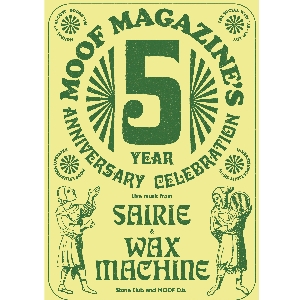 More information about MOOF Magazine's 5 Year Anniversary Celebration tickets
MOOF Magazine's 5 Year Anniversary Celebration
Celebrate the underground press, counterculture and DIY psychedelia with live music from Wax Machine and Sairie, Stone Club / MOOF DJs, and a psychedelic light show from Innerstrings. Retrospective MOOF exhibition upstairs.
Doors: 7pm
Tickets: £10 ADV
Founded in 2017 by then 17-year-old Melanie Xulu, MOOF is a psychedelic print magazine with a penchant for the more obscure. With ten issues to date, the magazine has amassed a worldwide following and loyal readership, and is currently stocked in the UK and USA. Inspired by the acid-drenched publications of the 60s/70s such as Oz and Gandalf's Garden, MOOF's goal is to keep the underground press alive and weird.
Wax Machine
Surfing on a sun-drenched wave of psychedelia comes Brighton's band of Merry Pranksters.
Incorporating spiritual jazz, krautrock, tropicália and library music, Wax Machine have been a MOOF mainstay since the early days.
Sairie

Hailing from East Sussex, psych folk duo Sairie's shared love of folklore,
mystery, nature and the landscape weaves into their hauntingly beautiful sound.

Innerstrings
Innerstrings will be decking out The Social with a psychedelic light show, expect mind-expanding oil light projections at the MOOF exhibition and bar area upstairs, and trippy visuals downstairs.
Stone Club (DJs)
Wyrd psych and obscure bangers from Stone Club founders Lally Macbeth and Matthew Shaw.
MOOF (DJ)
MOOF founder/editor Melanie Xulu will be hitting the decks with her eclectic mix of psychedelic and underground vinyl.