Office For Personal Development
The Social, London.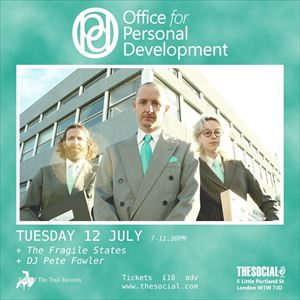 More information about Office For Personal Development tickets
Office for Personal Development.
The Office for Personal Development was founded by its current Director, Trevor Deeble, in 2020. The son of civil servants, he had a nomadic upbringing, moving between England and Germany, spending his formative years in the industrial Nordrhein-Westfalen in the mid 1990s, the motherland of computer music and absorbing a healthy dose of Europop.

On returning to England he went on to study Fine Art at London's prestigious Goldsmiths College, but quickly became distracted by music and the South East London avant-garde and New Wave scene, narrowly avoiding expulsion.

Now resident of Bexhill-on-sea on the south coast, where OPD headquarters are situated, the company is committed to helping you achieve all of your personal development goals.

The OPD would like to take this opportunity to announce its two latest recruits. Bellza Moore, having served their internship, has been offered the full-time position of Office Junior, and Del Querns, headhunted and brought back from early retirement to become our new Head of IT.
The Office for Personal Development is open for business, and looks forward to taking your call.

'There comes a time in everyone's life when you have to accept that you're no longer a shiny new penny. That's when you need to become cold, hard cash.' Trevor Deeble
To speak to a personal development consultant today visit - https://www.opd.org.uk