Shadowman
The Social, London.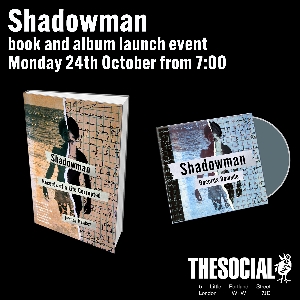 More information about Shadowman tickets
Shadowman
'What a unique project Johnny Daukes' Shadowman is. On the surface it's memoir but at its heart are a book and album that wrestle with big questions about pain, art, memory and love.'
Mat Osman

Shadowman: Records of a Life Corrupted is the first published book from writer, musician and film-maker Johnny Daukes. It tells the story of a young man polluted by sexual abuse and his subsequent career in music, comedy and film that amounted to an unconscious recording and processing of that early trauma. Daukes' path - playing in bands, writing and performing radio and TV comedy and refusing to be defined by the events of his youth - makes for a compelling and sometimes even hilarious story of an unconventional life.

With frequent reference to Daukes' lyrics, sketches and scripts, all produced with no awareness of their true significance, Shadowman is a work of personal archaeology that takes the reader on an extraordinary and almost unbelievable voyage to – finally – a place of peace and redemption.

Daukes is simultaneously releasing the album Shadowman: Records Re-Made which features 11 songs, originally recorded between 1984 and 1998 and written with no knowledge as to their true significance. These have been re-recorded in 2022 with a complete understanding of their meaning and the consequences thereof.

'With bravery and humour, Daukes uncovers an origin story that would have crushed many. Utterly compelling.' John Niven
Johnny Daukes will read from the novel with frequent diversions into acoustic songs. There'll be a Q&A with Johnny conducted by the author and musician Mat Osman and songs from the forthcoming album Shadowman: Records Re-Made, performed by a five-piece band.
'Shadowman is emotional, powerful, deeply honest and very personal. An astonishing piece of work.' David Quantick